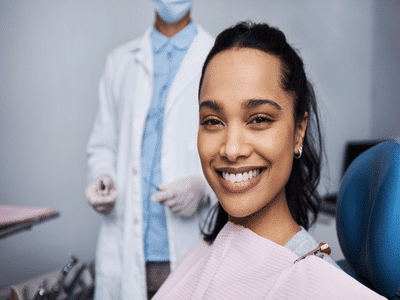 The real answer to this question is yes. You might see advertisements online or in magazines for services that bypass the orthodontist to get you clear aligners. These services are typically referred to as mail-in orthodontics. Many adults who seek orthodontic care later in life view the orthodontist as a hassle and may be more likely to try these non-certified options, so keep reading to learn more about why you should get Invisalign from an orthodontist, from Dr. Joseph Porter at Porter Orthodontics.
Why an Orthodontist?
Orthodontists are highly trained professionals. While aligner companies have technology that allows them to create sets of correctional aligners, they lack the training and expertise of a certified orthodontist to make diagnostic decisions regarding your bite and teeth. 
Orthodontists go through dental school and a specialized master's program adding two to three years of specified bite-focused training to their dental education. They complete an orthodontic residency and often participate in research to further the field as a whole. 
Many orthodontists also invest in continuing education programs and are up to date on the best and most effective ways to straighten teeth. An orthodontic office has all the materials and staff to facilitate an easier and less harmful path to a beautiful smile.  
A Long-Term Solution
Perhaps the biggest benefit of seeing an orthodontist who gives you a beautiful smile is their experience. An orthodontist has seen hundreds, if not thousands, of cases in their career. They see you and your mouth in person multiple times and are best equipped to give you an accurate diagnosis and treatment plan. 
A trained orthodontist can also offer you options to best fit your specific case. They can provide clear braces, lingual braces, or aligners. They can also recommend qualified specialists for cosmetic procedures you may also want later in life. 
Alternatives and Their Cost
The true cost of not seeing a qualified professional for treatment is in the long term. Failed mail-in orthodontics can leave you looking worse than before, and cause deeper issues with alignment, your bite, and even your jaw. These issues will later have to be corrected by a certified orthodontist anyway, and the whole experience will end up costing you more. 
Some online orthodontic companies do not require an in-person visit to an orthodontic practice or in-person supervision during treatment. Are you comfortable with proceeding without expert advice and a comprehensive examination?
Most orthodontists offer complimentary consultations, which can help you get a better picture of what treatment will look like. And there's the added benefit of their expertise in diagnosing underlying issues with jaw health, periodontal health, and general oral health which could impact treatment, and can't be seen from photos sent online. We advise seeing a licensed and experienced orthodontist for your treatment. Please feel free to call our office or visit our website to see our services and schedule a free consultation.