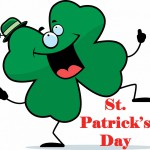 Whether you are Irish or not, St Patrick's Day brings out the Irish in everyone, kids and adults alike. Many patients ask for green colored elastics in March! Whether you go to a party, watch a parade, eat green soup, or just put on a green hat, St Patrick's Day has become a holiday fixture in the US.
The holiday originated as a commemoration of Saint Patrick, who brought Christianity to Ireland. He lived in Ireland in 432 and became a champion of Irish Christianity. March 17th marks the day of St. Patrick's death and has been commemorated by the Irish for over 1,000 years. St. Patrick's Day is still observed as a religious feast day by many Christians, but it is better known for its celebration of Irish culture.
No matter how you choose to celebrate the day, orthodontist Dr. Joseph Porter and his team have a great "brace friendly" recipe offered by the American Association of Orthodontists…Corned Beef Casserole. It is easy to make with a busy schedule and a great twist on the traditional Corn Beef and Cabbage traditional dinner.
Corned Beef Casserole
Ingredients:
• 1 (8-ounce) package medium egg noodles, uncooked
• 1 (12-ounce) can corned beef
• 1 (10.5- to 14-ounce) can cream of celery soup, undiluted
• ¾ cup milk (use just ½ cup if using larger soup can)
• 1 Tablespoon dried minced onion
• ¼ cup bread crumbs (seasoned or toasted plain)
Directions:
Preheat oven to 350°. In a saucepan, cook the noodles just until tender; drain. In a large bowl, chop the corned beef into a coarse crumbly texture. Stir in soup, milk and onion. Grease a 2-quart casserole. Add the noodles and the corned beef mixture and stir together well. Sprinkle the bread crumbs on top. Bake covered at 350 degrees for 30 minutes. Serves 6-8 people.
Keeping in the spirit of the day with a healthy meal, add a side of fresh green beans and mixed green salad with a sprinkling of purple cabbage.
For dessert, include Green Ice cream Jello that is easy to make the night before. Everyone will love it, especially when wearing braces.
Green Ice Cream Jello:
Ingredients:
• 2 packages of jello (green)
• 1 package of knox unflavored gelatin
• 4 cups of boiling water
• 1 quart of nonfat vanilla ice cream
Directions:
1) Mix together both packages of jello, gelatin, and boiling water to dissolve.
2) Add 1 quart of vanilla ice cream; stir until dissolved.
3) Pour into 9 x 13 glass dish
4) Refrigerate overnight, cut and serve! The ice cream will float to the top of the jello.
The total time to prepare this dish is ten minutes, besides refrigerating overnight
Happy St. Patrick's Day from Porter Orthodontics.